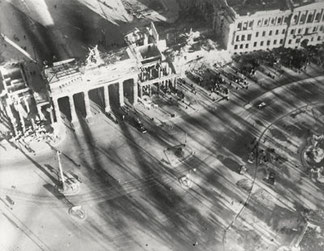 Marc Barbey is dedicated to collecting photographs and has built up a collection which spans the earliest days of photography into the 1990's. The emphasis is on Berlin and German photography in general but also spans photojournalism and vernacular photography.
As its French name "Regard" suggests, the collection hopes to inspire a deeper gaze towards that which is being viewed. The collection also aims to further the discovery and re-discovery of formerly renowned photographers and photo artists who have since faded from memory.
Besides Hein Gorny's (1904-1967) extensive oeuvre which Collection Regard is currently administering, the collection maintains work by Lotte Jacobi, Siegfried Lauterwasser, Heinrich Riebesehl, Toni Schneiders, Friedrich Seidenstücker and selected photographs by Paul Almasy, Bruno Barbey and Robert Capa.
Marc Barbey cooperates with international institutions, museums and other collections and publishes his own select editions. The collection is accessible to the public through regular exhibits on a variety of themes. Collection Regard is situated in the Mitte district of Berlin and offers, in contrast to classic "white cube" showrooms, a cozy setting. It's a Salon for the like-minded and the curious and aims to provide an immediacy of access to both the work and the collector.
"I want to create a space for dialogue and deep engagement with photography. A space people feel they'd enjoy returning to – often. Berlin is the perfect city for my collection. Both its history and its incredibly fast development are vividly present in everyday life, creating a dynamic field of tensions in which I hope to engage with fellow art and photography enthusiasts. I can't imagine any place better than Berlin than to do just that". 
Marc Barbey