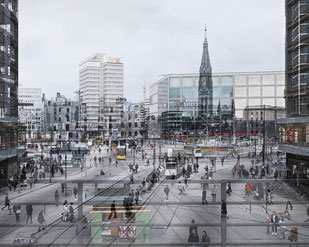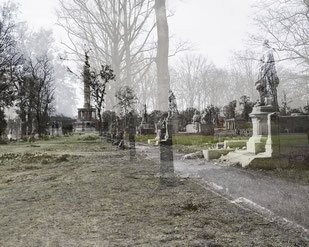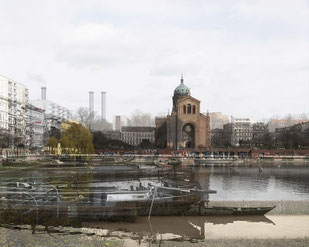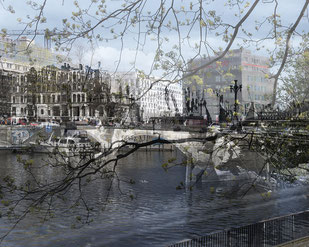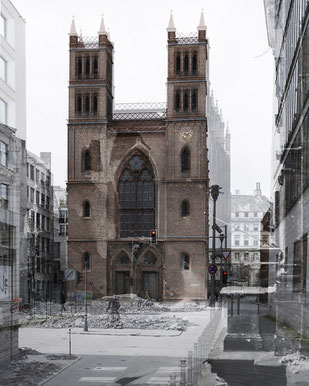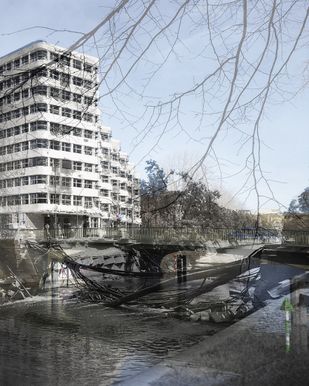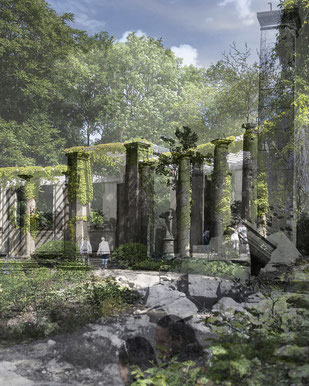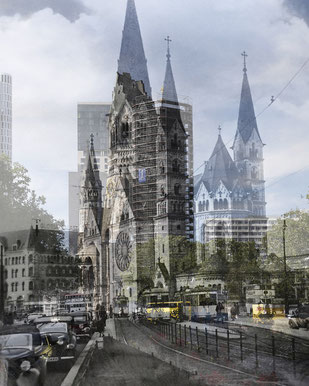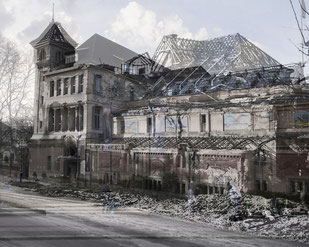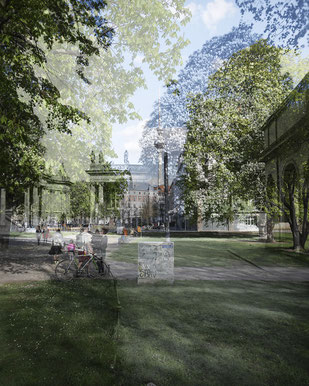 "Au revoir Berlin"
Photographs from the collection of Marc Barbey
Duration: 27.10. - 01.12.2023
Opening: Thursday, the 26.10.2023 from 6 - 9 pm
Opening remarks 7 pm Marc Barbey
The exhibition can be visited on Fridays from 14:00 to 18:00 and by appointment. 
Salon Photographique, artist talk with Michael Wesely and Marc Barbey on Thursday, 16.11.2023 at 19:30 (admission from 19:00), registration info@collectionregard.com, contribution 5€.
Guided tours of the exhibition with Marc Barbey on 27.10 at 17:00, 17.11 at 17:00 and 1.12 at 17:00.
Since May 2011, Collection Regard has been operating publicly as a photography collection, archive (Hein Gorny Estate) and photography gallery from Steinstraße 12, 10119 Berlin. From the discovery of the work of the photographer Hein Gorny (1904-1967) and the subsequent administration of his estate, the Collection Regard has become a place that focuses on photographic works and photographic artists that deserve attention to enrich the discourse in photography. In the form of a salon, works from the archives of the respective photographers were presented, books were published, and an extensive accompanying program (guided tours and Salon Photographique) was offered. The focus of the collection, namely photography from Berlin or about Berlin, as well as underrepresented German positions were consistently pursued in the gallery program. Thus, this place became a place for photo interested people, photographers, art historians, collectors and curators to exchange and discuss photography. The financing of the place succeeded exclusively from the sales of the gallery.
With the group exhibition "Au revoir Berlin", Collection Regard concludes its 12-year gallery activity in Berlin. The collection and the archive (Hein Gorny Estate) will remain. When and where the collection and the archive will be accessible again has not yet been determined. The archive work will continue until a suitable place is found to house it.
This exhibition is intended as a thank you to the photographers who have been associated with the gallery until the end in a trusting and good cooperation. Works by Amin El Dib, Hein Gorny, Margret Hoppe, Rainer König, Dietrich Oltmanns, Andreas Rost, Thomas Sandberg, Christian Schulz, Hans-Martin Sewcz, Peter Thomann, Patrick Tourneboeuf and Barbara Wolff are presented.
It is also a great pleasure to present a completely new work by Michael Wesely (*1963), as part of the administration of Hein Gorny's estate. Michael Wesely captures in a very special way in his work the ongoing time through extreme long exposures, creating images that are themselves image and archive. His works at Potsdamer Platz, Niemeyer's Brasilia, Mies van der Rohe's Neue National Galerie or Monet's water lily pond in Giverny, among others, are unique and have international standing.
Since 2018, he has been working with superimpositions of old and new photographs. In his series "Doubleday" he creates works that make time "visible". For this exhibition, he has taken 20 works by Hein Gorny about the destroyed Berlin of 1946 in black and white and merged them with his own recent photographs in color from 2023. This creates the possibility for the viewer to experience the same place, in the same image with a distance of 77 years: we see the city, the ruins, the renovations, demolitions and new buildings, the people from two eras and the visible traces of the history of that time and today. These works have entered the Hein Gorny Estate as well as the collection and are for sale to interested parties in three limited edition formats.
As a friendly and respectful photographic greeting, one work by Maurice Weiß and one work by Andres Kilger will be shown.
Collection Regard realized 22 solo exhibitions and three group exhibitions in the Steinstraße premises, accompanied by 14 own publications with the wonderful graphic designer Andreas Koch and selected authors as well as seven co-publications (Kehrer, Conference Point, Nicolai, Spector Books) and eight films, three of them with FotoTV (www.fototv.de) and four in collaboration with Guillaume Guérin. The Collection Regard was able to work for a total of 24 photographers in Berlin as well as on a national and international level, mainly in Paris and Arles (founding participants of FOTOHAUS).
The fact that the works of the photographers represented have made it into over 60 participations in exhibitions and group shows in Germany and abroad is an indication of this and a great source of pride.
The authors and curators who have worked directly with the activities of the collection were: Hubertus von Amelunxen, Odile Andrieux, Katrin Arrieta,  Laura Benz, Eugen Blume, Jens Bove, David Campany, Ulrich Domröse, Hannah Dübgen, Florian Ebner, Amin El Dib, Matthias Flügge, Janos Frecot, Katharina Hausel, Francois Hebel, Barbara Hofmann Johnson, Luise Holke, Klaus Honnef, Susanne Husemann, Yusuke Isotani, Enno Kaufhold, Gisela Kayser, Uwe Kolbe, Christina Landbrecht, Kristina Lemke, Sebastian Lux, Sabina Mlodzianowski, Lene Nell, Antonio Panetta, Gisela Parak, Katia Reich, Thomas Sandberg, Rolf Sachsse, Franziska Schmidt, Sabine Schnackenberg, Ulrike Schneider, Katharina Scriba, Olga Slibova, Erik Steffen, Christoph Tannert and Almut Weinland.
For the spirit of partnership and shared interest in the promotion of photography, I would like to thank the following actors: MKG Hamburg, Goethe Institute in Paris, Belem, Marseille, Bordeaux, ARTPRESS, Firma Pelikan, Firma Bahlsen, Nationalgalerie im Hamburger Bahnhof - Museum für Gegenwart, Berlin, BPK Bildagentur, Bouvet Ladubay, DGPH, Ostkreuz, Willy Brandt Haus Berlin, Ullrich und Rita Kissing, Chaussee 36 Berlin, ParisBerlin Fotogroup für acht FOTOHAUS Ausstellungen in Arles, Bordeaux und Berlin, Haus am Kleistpark, Hotel de Rome Berlin, MAMM Moskau, FotoIndustria Bologna, Le Garage Photographie Marseille, BLMK Cottbus, Forum für Fotografie Köln, Biennale für Aktuelle Fotografie Mannheim, Städel Museum Frankfurt, Promenades Photographiques Vendôme, Galerie Franzkowiak, Kunstmuseum Moritzburg-Halle, Leonhardi-Museum Dresden, Deichtorhallen, Musée d´Art Moderne et Contemporain Saint Etienne, Museum für Fotografie Braunschweig, Galerie Binome Paris, Galerie Folia Paris, Librairie Métamorphoses Paris, FOTOTV (film on Amin El Dib's Artaud portfolios has just been released) and Parade Arles.
Without their work this undertaking would not have been possible and here I would like to thank them once again: Antonia Panetta who for six years accompanied and significantly contributed to the archive and gallery activity of the collection as Artistic Director and curator of many shows. Laura Benz, who for three years and sporadically more took wonderful care of the archive, and Eva Gravayat, who initiated many exhibitions with partners, as well as the many good and important interns!
Many press reviews at the federal level as well as internationally helped to expand the number of visitors and strengthen the recognition of the works of the photographers represented and give them, at least for some of them, the visibility in the history of photography that they deserve. Thank you to the journalists!
Here are a few examples that I was particularly pleased to see: the leporellos by Ulrich Wüst that were first exhibited at Collection Regard in 2013 were presented at documenta 14 in Athens 2017. The Hein Gorny exhibition at MAMM Moscow 2016 had 35,000 visitors. The work "The Journey... in the end the power" by Amin El Dib has been included in the collection of Marin Karmitz in 2022 and is currently on display at the Centre Georges Pompidou until March 2024 in the grandiose exhibition "Corps à Corps".
Work on the Hein Gorny archive, as well as its expansion with prints, negatives and publications, has continued uninterrupted for 14 years. Today the archive consists of about 1500 positives (vintage contacts + enlargements + later prints), about 17,000 negatives and about 200 publications with Hein Gorny motifs as well as other relevant writings. The inventory and indexing (D and EN) of the prints was completed. 18 exhibitions with Hein Gorny works were organized in Germany and abroad. 4 publications have appeared: Hommage à Berlin, Hein Gorny Spectrum Photogalerie Hannover 1972, Hein Gorny New Objectivity and Industry, Photo: Hein Gorny.
The text by Klaus Honnef "Hein Gorny – An innovative photographer" appeared in Lettre International No. 135 Winter 2021: "Gorny is among the image constructors who developed a specific visual language and thus permanently changed the view of the world. He was one of the most outstanding." "Gorny's images oscillate "stylistically" between the aesthetic principles of New Vision and New Objectivity."
The positive response in the professional world to Hein Gorny is steadily increasing, especially abroad, with curators such as Olga Slibova (MAMM Moskau), Francois Hébel (MAGNUM, Rencontres d´Arles, MAST, Fondation Henri Cartier Bresson) and David Campany (ICP New York) all spontaneously enthusiastic, recognizing the visionary power of his photographs and conceiving exhibitions.
The fact that so far no German institution has accepted the invitation to take a thorough look at Hein Gorny's archive remains incomprehensible to me and many others, and a blank space for the history of German photography. Even though he is quoted more and more often and shown more and more often in group exhibitions on modernism in Germany, Hein Gorny has not yet been institutionally honored in Germany with a major solo exhibition. If possible, the archive should be affiliated with a photo collection in a museum.
Bon vent!