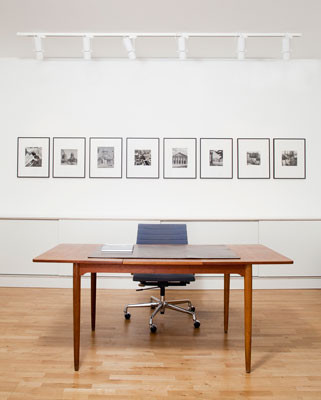 Team
Marc Barbey
Collector and Founder
Marc Barbey (*1971) grew up in Paris and after studying international business at the Grande École (ESSCA) in Angers, France, and the Heriott Watt University in Edinburgh, Scotland, he worked for nine years in Paris as an international sales and business development manager. On the occasion of the birth of his first child in 2003, he moved to Berlin, founded his first own company, and in the last years he has worked independently or as an employee in the software business. Berlin is the birthplace of his private collection, the "Collection Regard".
Antonio Panetta

Curator
After finishing his studies in architecture in Florence, Antonio Panetta, born in Italy, moved to Berlin in 1996 for studying Fine Arts at University of the Arts, Berlin. Since then, Antonio Panetta works and lives as a freelance artist in Berlin. Among other things, his artistic works were shown in the Museum Centre Vapriikki, Tampere (Finland), the Museum for Photography, Braunschweig, the Academy of Arts, Berlin, and the ZKM | Center for Art and Media, Karlsruhe. Besides his artistic activities, Antonio Panetta works as a lecturer at the University of Arts, Berlin. He participated in implementing of various photo exhibitions and art projects for photo galleries and foundations in Berlin and Italy. Creative director of Collection Regard from 2010 to 2017, Antonio Panetta is since then curating exhibitions for the collection.
Eva Gravayat
Development Manager
After her Master degree in Culture Management at the Panthéon-Sorbonne University in Paris, Eva Gravayat worked from 2007 to 2011 as exhibitions production manager for the international photography festival Les Rencontres d'Arles in France under the direction of François Hébel. She moved to Berlin in January 2012 where she now lives and works free-lance as journalist (L'OEil de la Photographie, Hatje Cantz Fotoblog, Hachette) and project manager (Fotobookfestival Kassel, Photomarketing...). Eva Gravayat became development manager of Collection Regard in 2014.
Laura Benz
Researcher Estate Hein Gorny
Studied Art History, Cultural Studies and French Literature in Hamburg and concluded with a thesis on Hein Gorny's advertising photography for Pelikan and Bahlsen. During and after her studies she worked for different art institutions, especially archives, and artist studios. She conceives and organizes exhibitions and publications in the field of photography. Since 2015 she has worked as a project manager for Ostkreuz - Verein für Fotografie e.V.. She has collaborated with the Collection Regard for a digitalization project and for the exhibition "Hein Gorny. New Objectiity and Industry" including publication. In 2017 she joined the Collection Regard as a researcher in the Estate of Hein Gorny where she oversees the archive.