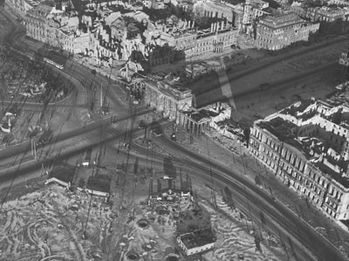 Edition - Brandenburger Tor
Collection Regard has issued "Brandenburger Tor" - a limited edition print of Brandenburg Gate photographed by Adolph C. Byers and Hein Gorny to mark the exhibition and publication of "Hommage à Berlin - Photographs 1945-1946" by Hein Gorny, Adolph C. Byers and Friedrich Seidenstücker.
"Brandenburger Tor" 1945-1946 
22.3 x 29.4 (23.8 x 30.4)

This limited edition of 50 copies and 5 artist's proofs are numbered in consecutive Roman numerals.
Each is a silver gelatin print on Ilford Multigrade FB Warmtone photo paper, printed from the original negative by Jochen Rohner in 2011.
All prints are stamped, numbered, authorized and signed by Peter Gorny.
Further details on request