SOME CHANGES MADE
Amin El Dib
February 22 – June 7, 2019
From the very beginning, Amin El Dib's work has been characterized by distinct thematic series. The selected series on view were produced in Berlin and later also in Switzerland. These works have been intentionally chosen to emphasize the part of his extensive practice in which he takes a decidedly abstract approach in terms of form and content – regardless whether the images reference people, plants, or materials.
Most striking are his works that deal with images borrowed from the distinct motifs of already completed series. Working with their materiality —in this case traditional baryte paper as well as modern digital print paper — he uses this to create new images. In other words, he tears the original photographs and places them together in a new way, leaving the ripped edges clearly visible, thereby implying violence and destruction through what is literally enacted on the paper and also the choice of motif.
At the same time, one could say, with some exaggeration, that an act of healing and repair takes place. The brutal deconstruction of an image is followed by its conciliatory restructuring in the form of an internal dialogue that generates a heightened and concentrated aesthetic. In his traditional motifs El Dib tends to explore ways to make visible the fragmentary and incomplete aspects of life and its constant blossoming/unfolding, to a certain extent as a contradiction to all that is glossy, perfect, and unattainable. In his montages made out of torn paper, he takes this to a whole new formal and aesthetic level with metaphorical dimensions. The images – yes, these are images – produced in this way are almost painful, both to retina and our innermost sensibilities, an impact that is heightened by the many staples visibly puncturing the images.
In addition to the works created using this technique, which makes up the largest part of the exhibition, Amin El Dib also shows other serial motifs in which the depicted subject matter, such as a woman's head of hair, is shown in cropped views that gradually dissolve into a bright, absolute white. This too serves to describe existence as fragile and fleeting: an artistic commentary on something larger: the transient and short-lived nature of being.
From February 22 to June 7, 2019 the exhibition can be viewed every Friday from 2 to 6 pm (except on holidays) or by appointment.
Salon Photographique:
Salon Photographique with Amin El Dib and Franziska Schmidt (artist's talk in German) on April 11, 2019. Doors open at 7 pm. The talk begins at 7:30 pm.  Tickets are 5€. Advance reservation is kindly requested: info@collectionregard.com
Tours with Amin El Dib and Marc Barbey (in German) on Friday May 10, 2019 at 5 pm and Friday May 24 at 5 pm. Free admission. Advance reservation is kindly requested: info@collectionregard.com
We encourage you to also visit the exhibition Body and Soul curated by Enno Kaufhold at HAUS am KLEISTPARK, which runs from April 10 to June 7, 2019.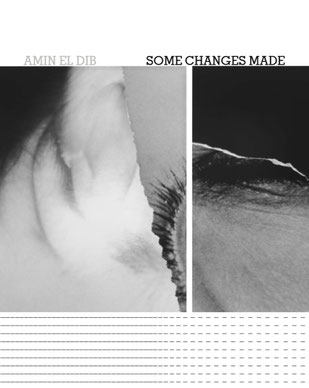 Some Changes Made
With a text by Franziska Schnmidt

Published by Collection Regard

52 pages
Softcover
German - English

Price 18,90 € + shipping