Barbara Wolff  – Photographs
In One´s Own Account
From September 8 till December 8, 2017
Exhibition curated by Marc Barbey.
The exhibition shows several photographic cycles of Barbara Wolffs oeuvre; one could speak of a small retrospective. In a quasi-work-chronological order we present extracts from her Dadaist collages and montages à la Anton Stankowski dedicated to Alberto Moravia (The Paradise), a serie of extraordinary, experimental "photographic explorations" in negative-positive exposures and multiple exposures ("Translucents"), a tableau about the Brandenburg Gate in 1985, Barbara Wolff's biographical work from East and West Germany, a long-term project from the Brandenburg village Sechzehneichen as well as the latest work with the large format camera.
Comment to the work of Barbara Wolff:
A consistent element in the work of Barbara Wolff is how she records biographical aspects and key points in her life in East and West Germany. She has produced works of photography infused with meaning, which draw the viewer into her individual world of experience. At the same time, Wolff manages to mediate a sense of abstraction and universal experience within her personal and subjective approach. She creates photographic statements that have an overarching validity and are moving in their ability to reveal truths about humankind. Infused with meaning, her images create a rapport and communicative exchange between the artist's realm of experience and that of the viewer. These works go beyond the documentation of an actual, objective reality. Capturing truly decisive moments, Wolff is able to portray her subject matter with sensitivity. The high photographic quality of her balanced compositions inject her works with additional levels of meaning. The result are images of a suprareal, magical world. Her artistic vocabulary, which I would situate in Magical Realism, has a highly humanistic component. Many of her images show people in their immediate and uncompromised integrity, poised between fragility and strength. The work of Wolff and the range of cameras that she uses, from small-format to large-format devices, is diverse both in subject matter and technique. Nevertheless, her personal signature is always evident, and her determination to pursue themes in her own, unmistakable way is always palpable. Precisely for this reason this exhibition is titled On One's Own Account.                                                                                                                        Marc Barbey, June 2017
Biography Barbara Wolff (*1951)
Barbara Wolff, born in 1951 in Kyritz in the Prignitz region of the State of Brandenburg, is the daughter of photographer Werner Hinz. After completing high school she trained as a photographer in her father's photography business and then went on to study photography at the Academy of Fine Arts, Leipzig. After gradating she worked as a freelance illustrator, photographer, and designer. During this period her style is defined by photographic collages and montages. Between 1982 and 1985 she lived in the village of Sechzehneichen in Brandenburg, where she pursued a personal, long term project about the village and its inhabitants. After applying to leave East Germany, Wolff moved to West Germany in 1985 and settled in Munich. Numerous trips to and stays in other countries followed, enabling her to discover places where she previously would not have been able to travel—such as Guatemala, Paris, and Vietnam. Since 1989 Wolff has worked as a freelance photographer and designer for the Linhof camera manufacturer in Munich. She taught Visual Communication and Photography as the Designschule München for twelve years. In the context of further freelance work, she has overseen the set-up and establishment of photographic studios in countries such as Brazil and Yemen, and she has held lectures on photography in China, Finland, and Vietnam. Today, Barbara Wolff lives and works in Berlin.
The exhibition can be visited every Friday between 2 and 6 pm (except on holidays) as well as by appointment. During the Berlin Art Week the exhibition can be visited as well on Thursday September, 14th and Saturday September, 16th from 2 to 6 pm.
To accompany the exhibition a catalogue from Collection Regard with a text by Sabina Mlodzianowski, art historian and author is being published.
Furthermore the exhibition will be complimented with an event program. Photography-lovers will be provided a platform where they can get in contact and exchange views. On Thursday, October 19th, 2017, at 7:30 pm  a "Salon Photographique" with Barbara Wolff and Tina Bara, photographer and professor at HGB Leipzig (Academy of Fine Arts Leipzig), will take place. Doors open at 7 pm, contribution 7€ per person. Please register via email to info@collectionregard.com
Guided tours: visit the exhibition with the photographer herself, Barbara Wolff and Marc Barbey (the tour will be held in German): Friday, September 29th, at 5 pm, Friday, October 20th, at 5 pm and Friday, November 24th at 5 pm. Free entrance. Please register via email to info@collectionregard.com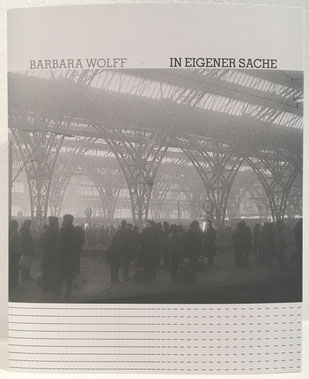 "Barbara Wolff – In One´s Own Account"
Published by Collection Regard
With a text by Sabina Mlodzianowski and a foreword by Marc Barbey
German/ English
Softcover, Format: 27 x 22 cm, 55 pages
Price: 18,90€ + shipping