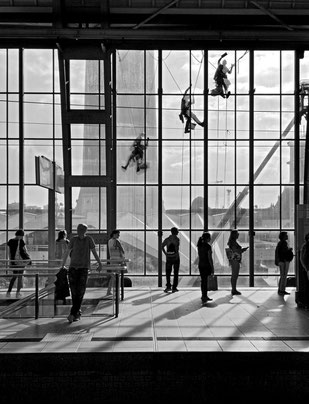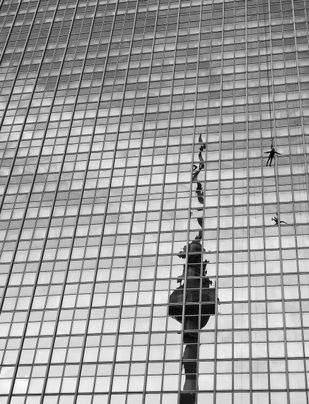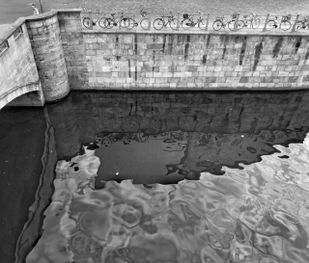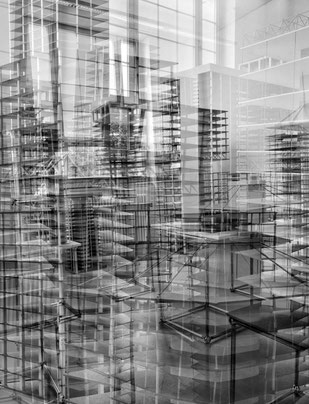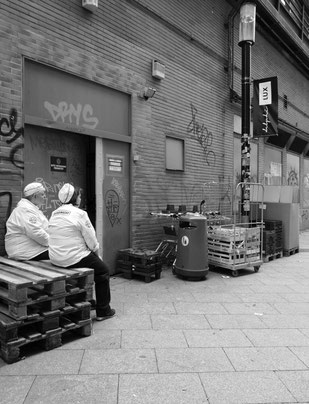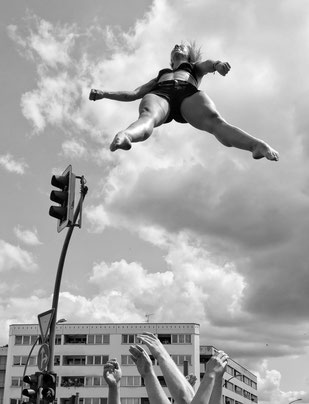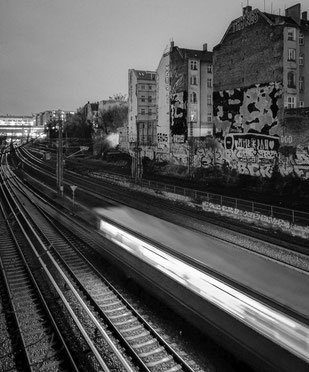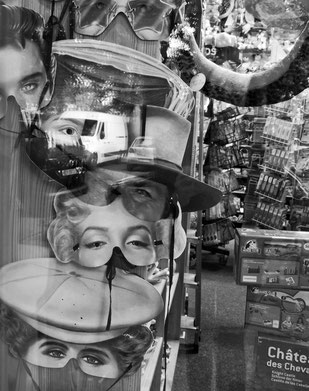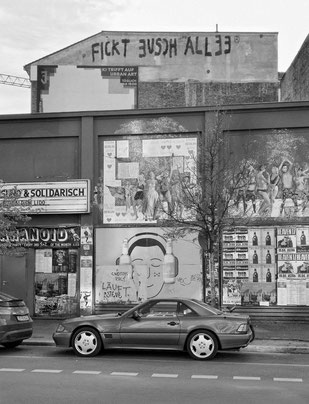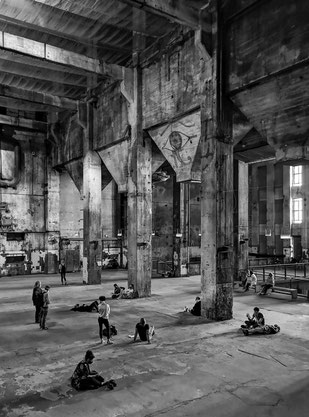 Barbara Wolff - METROPOLIS
19.02. - 18.06.2021
Curated by Marc Barbey.
Online Vernissage with Barbara Wolff and Marc Barbey on February, 18
Funded by Stiftung KUNSTFONDS in the program 20/21 NEUSTART KULTUR.
In 2018 Barbara Wolff decided herself to present works on the social network Instagram and published black-and-white photographs under her account @barbara_wolff_berlin, which obviously were taken exclusively with her smartphone. Her posts through Berlin and other cities quickly reached a large number of followers on Instagram. In her METROPOLIS serie, she focuses on the city of Berlin and its people. The serie grew so much that the idea of a publication and a presentation logically followed.
After producing an analogue negative from a digital file, Barbara Wolff develops classic silver gelatin prints herself on her favourite matt photographic paper. A presentation in Paris was already planned for the end of 2020, but had to be cancelled. We are therefore all the more pleased to be able to present 55 works in Berlin, which combine the digital and analog worlds in a wonderful way.
From the preface "In her almost daily wanderings, preferably on foot, Barbara Wolff takes photographs that have a metaphysical dimension, in which she captures the essence of a moment, regardless how fleeting. Her work goes beyond merely documenting an objective reality. When recording decisive moments Wolff demonstrates an unusual sense of composition that is enhanced by a heightened sensitivity enabling her to reveal different facets of life – or consciousness, one could say – in relation to her subject matter.
Her artistic vocabulary is rooted in humanistic photography, but in my opinion, it could also be ascribed to magical realism, given the subtlety of her work. Barbara Wolff shows us the world as it is, but at the same time almost every image conveys an overarching, sympathetic, respectful, sometimes visionary and often utopian dimension."  - Marc Barbey
Wolff's photographs are not about the classic city views. They are about a subjective view of Berlin in the now. The pictures tell of residents and their urban environment. Patterns of the city emerge, networks of relationships between people, architecture and (artificial) nature. The multi-layered levels of the photographs take the viewer emotionally on a journey through the city. It is about the transformation of the city, about provocation and chaos. It is about secrets, but also about visions. We visit S-Bahn stations and Berlin waters, graffiti walls and crowded shopping malls. But we also see the famous empty Berlin squares and stand in front of closed doors of techno clubs in the Corona year 2020. The exhibition "METROPOLIS" is an exciting picture narrative. Especially for those interested in photography and Berlin enthusiasts. For those who live in Berlin, as well as those for whom Berlin is a place of longing.
Barbara Wolff (*1951) grew up in the GDR and studied photography at the Hochschule für Grafik und Buchdruck Leipzig. In 1985 she moved to the BRD. To this day, she works freelance for the Munich-based camera manufacturer Linhof. Her freelance photographic works have been shown in Berlin (2017, 2020), Arles (2018), Vendome (2019), Geneva (2019) and are represented in international collections. The photographer lives and works in Berlin.
The much discussed and praised book was published by Lunik Verlag Berlin in November 2020 (see below).
Opening hours:
The show can be visited in the Collection Regard from February 19 till June 18 2021, when possible, every Friday between 2 and 6 pm (except on holidays) as well as by appointment. We offer free online guided tours via video chat; registration via info@collectionregard.com.
Accompanying program:
PIANO CONCERT: on Friday, February 26 at 7 pm there has been a live piano concert by Count Stephan von Bothmer to the METROPOLIS pictures of Barbara Wolff from the machine hall of the "Alte Pumpe".
Donations to the musician are welcome (Bank transfer, IBAN: DE72100500000240366310, BIC: BELADEBEXXX, Berliner Sparkasse or PayPal: s@stummfilmkonzerte.de).
Salon Photographique: on Thursday, March 11th. We will hold a Salon Photographique with Barbara Wolff, Hans Michael Koetzle and Marc Barbey.
The Salon Photographique will be held as a live event on ZOOM. Press the link to participate: https://zoom.us/j/95962768910?pwd=SlFyVy9jdnVxMWFqcEhZYjNVZG1qZz09
Public tours / online tours as LIVE event on YouTube: guided tours with Barbara Wolff and Marc Barbey on Friday April 16, May 14 and June 18 at 5 p.m. Free entry. Reservation / advance registration: info@collectionregard.com. If the current situation does not make it possible, these tours will be held as a ZOOM Meetings.
Public Tour on April 16 at 5p.m. CET:
COLLECTION REGARD "BARBARA WOLLF - METROPOLIS" PREISLIST/ PRICELIST
Collection_Regard_Metropolis_Preisliste_
Adobe Acrobat Document
3.7 MB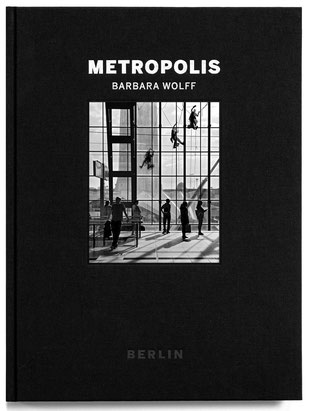 METROPOLIS BERLIN
Barbara Wolff
With a text by Marc Barbey
German, French, English
136 pages, 21 x 28 cm 
Triplex-Print
Hardcover with linen
Price 39,90 € + shipping