Christian Schulz – Photographs. West-Berlin 1981-1989
From February 24 till May 26, 2017
Exhibition curated by Antonio Panetta.
The photographs of Christian Schulz show us the West-Berlin of the eighties, in all its variety.
With its special status, the then island of West-Berlin was seen by many as a space of freedom, and it thus became a destination for a new international and wild bohème. At the same time it remained a symbolic place, whose mere existence carried a political message.
Christian Schulz photographed happenings, people and the city for the Tageszeitung and Zitty. He focuses as well on capturing the everyday life as well as the street life with pictures of festivals, concerts, films and theatre performances. His portraits focus on the individual and in most of his pictures there is an underlying political sense.
We see concerts by Atonal, IDEAL, Didaktische Einheit, Rio Reiser, Rolling Stones and Malaria in places, which became legendary in the meantime, like SO36 or Tempodrom and personalities of Berlin like Rosa von Praunheim, Rattenjenny, Juppi (impresario of the UFA factory), Annette Humpe (singer of the band IDEAL), Dagmar Stenschke, Günther Thews and Holger Klotzbach of the band Die 3 Tornados, Marianne Enzensberger and Lotti Huber.
Outstanding are the excellent and personal portraits of Berlinale actors and film personalities. Schulz catches with a rarely seen personal look Penelope Cruz, Elia Kazan, Michelangelo Antonioni, Emmanuelle Béart, Claude Sautet, Dani Levy, Maria Schrader, Henri Alekan, Jane Russell, Jeanne Moreau, Hal Roach, Johnny Depp, Jane Birkin or Wim Wenders. They are not portrayed as inaccessible actors and personalities but as tangent and touching individual. These qualities are very much appreciated by those portrayed and it is no coincidence that Christian Schulz works as a photographer for the films of Christian Petzold.
We see political events and demonstrations like the Tuwat in 1981, or the demonstration for disarmament and peace on the occasion of the visit to Berlin from Reagan in 1982; Willy Brand in the city hall in Schöneberg, the demonstration on Alexanderplatz on November 5th, 1989, or the opening of the Berlin Wall at Checkpoint Charlie on November 9th, 1989.
Marc Barbey:
"The black-and-white photographs from Christian Schulz are captivating stories. Though the pictures are taken informally, en passant, he succeeds in catching the essence of the moment, the movement and the happening in a strong narrative way.
Through the pictures we can immerse ourselves in these moments, we can experience them and get to know the people of this time. No matter if we find ourselves in a demonstration, a concert hall or an occupied house, the photographs of Christian Schulz allow us to be very close to the situation in a refreshing, light-hearted but still very respectful way. The photographed moments become vivid and brings one to astonishment, amusement, pensiveness or even shock."
Most of the silver gelatin prints were produced especially for the exhibition. Many of them are shown for the first time. The photographs can be acquired in two sizes (ca. 24 x 30 cm and 30 x 40 cm) in a limited edition (9+2 artist proof for both sizes) from 900€ or 1.100€ including VAT.
Arno Widmann and Christian Schulz used to work both for the TAZ in the eighties. In the catalogue " Die wilden Achtziger. Fotografien aus West-Berlin" Arno Widmann writes:
"These are photographs of society in transition that ended with the reunification. West-Berlin was a child of the wall. West-Berlin was a cuddled, blessed kid of the Cold War… As a photographer of the transitional-society Christian Schulz was as well one of the transitional moments, between the instants and the poses.
Program alongside the exhibition (in German):
The space being limited, please registrate in advance to : info@collectionregard.com
15.03.: Salon Photographique/Book presentation with Christian Schulz and Mathias Bertram, publicist and book designer. Doors open at 7pm, start at 7:30pm. Participation: 5€.
24.03.: Guided tour with the photographer C. Schulz at 5pm.
05.04.: Salon Photographique/Artist talk with Christian Schulz and Bernhard Schulz, deputy culture editor at Tagesspiegel, since 1971 in Berlin. Doors open at 7pm, start 7:30pm. Participation: 5€.
28.04. Guided tour with the photographer C. Schulz at 5pm.
29.04. Guided tour with the collector Marc Barbey at 2 pm.
10.05.: Salon Photographique/Film evening with mit Knut Hoffmeister, german experimental film maker and band member of Notorische Reflexe. Several short films of Knut Hoffmeister will be shown: "Schlacht am Nolli" (1982), "Deutschland" (1980) and "Tribute to Iggy" (1982). Further to an exchange with the filmmaker we will show the film "Musik wird Bild" (1982) from Stig Andersen (a film from NRK), in which the band "Notorische Reflexe" is presented and the growing use of image in music performances and videos is being investigated. Doors open at 7pm, start at 7:30pm. Participation: 5€.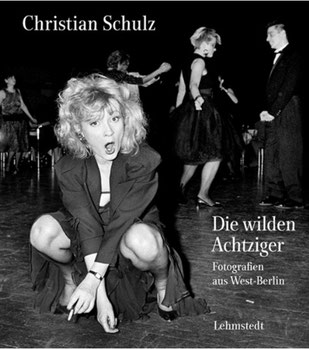 Christian Schulz
Die wilden Achtziger. Fotografien aus West-Berlin
With a text by Arno Widmann (German)
Published by Lehmstedt, Leipzig
128 pages
Hardcover
German
Price 24,90€ + shipping