BERLIN FRAGMENTS
Photographs by Rainer König
27.02.2015 till 05.06.2015
Concept: Marc Barbey and Antonio Panetta
Curated by Antonio Panetta
Opening: Thursday, February 26, 2015, 6-9 pm
Opening remarks: Janos Frecot, 7pm
The photographs of Rainer König (born 1926) show fragments and monuments - enduring and decaying forms of architecture portrayed both as overall impressions and in ornamental detail. The images also include still lifes and landscapes. Characteristic of König´s work are his precise and classical composition as well as the perfection of his prints.
A catalogue published by collection Regard accompanies the exhibition and includes the essay "The Eye of the Architect" by Janos Frecot.
Extracts of the catalog:
"When surveying his archive of some fifty thousand images, one gains the sense of his photographic work as being characterized by the eye of an architect. […] He is interested in the ruins for their own innate form, shaped by the architecture of the past and the randomness of the second in which the bomb exploded or the grenade hit its mark."
Janos Frecot
About the photographer Rainer König:
Born in 1926 in Berlin, Rainer König studied architecture at the School of the Fine Arts (today the University of Fine Arts), Berlin and first worked for 15 years as an architect. He started making photographs in 1953. From 1966 on and for the next 25 years he worked as a teacher for exhibition design and photography at the School of Fine Arts, Berlin. His work has been shown 1977 in the Neue Sammlung in Munich in the exhibition Der Ludwigskanal and 1981 in the Rainer König - Documentation of Altmühltal, as part of an exhibition series on contemporary German photography in the Fotomuseum im Münchner Stadtmuseum, Munich. An important body of work is also the photographs he took in the house of Hannah Höch which were shown in an exhibition at the Heimatmuseum Reinickendorf, Berlin in 2008. Rainer Königs body of work consists of about fifty thousand photographs. 500 of his photographs are in the collection of the Berlinische Galerie, Berlin. He owns a large collection of historic camera lenses, consisting of more than 600 lenses from the last 150 years. Rainer König lives and works in Berlin and is married to the graphical artist Inge Pape-König.
Press Relase in German
Pressemitteilung Collection Regard Raine
Adobe Acrobat Document
765.5 KB
The catalog of the exhibition is being published by Collection Regard:
Berlinische Fragmente
Text by Janos Frecot

Softcover, 45 b/w images, 48 pages

German/ English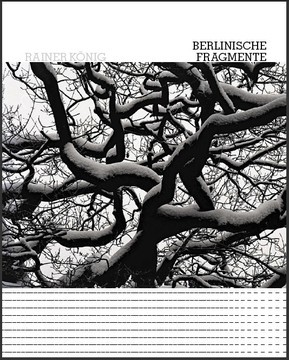 Editions:

Rainer König

Edition of 6 (+2 Artist Proof)
Format: approx. 20x30 (30 x 40) cm