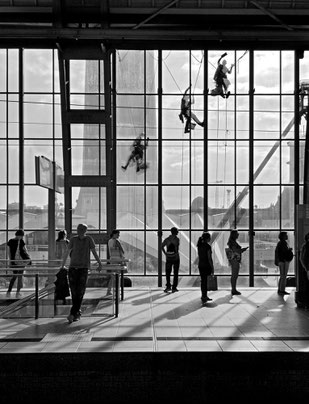 "BARBARA WOLFF - PHOTOGRAPHS"
in Goethe-Institut Bordeaux
March 5 - June 10, 2022

Goethe-Institut Bordeaux
35 Cours de Verdun
F-33000 BORDEAUX

The exhibition can be seen from Monday to Friday between 10 a.m. and 5 p.m. by appointment at info-bordeaux@goethe.de and by individual arrangement outside of these times. 
Opening in the presence of Barbara Wolff and Marc Barbey: March 5th, 2022 from 2:00 p.m. to 6:00 p.m.

At 3:30 p.m. Luise Holke (Director of the Goethe-Institut Bordeaux) and Marc Barbey will speak.
At 4:00 p.m. Barbara Wolff will be signing her books:
"In Eigener Sache" from 2017, "METROPOLIS, Berlin" (German Photo Book Prize 2021) and "Amazonia".
At 4:30 p.m. and 5:30 p.m. there are guided tours with Barbara Wolff and Marc Barbey in French.
The exhibition "Barbara Wolff - Photographs" shows 2 early and 2 newer photographic cycles by Barbara Wolff (*1951). After her studies at the Academy of Visual Arts in Leipzig, her critical political attitude and her ecological commitment blocked a classic career, which finally led to her leaving the GDR in 1985 after an approved application. In Munich she found her new place of work for 25 years; Barbara Wolff has been living and working in Berlin since 2011.

The cycles "Biography OST" (until 1985), i.e. photographs from your life in the GDR, and "Biography WEST" (1985-1989) are presented in a work-chronological manner. The cycle "METROPOLIS" (2018-2020) on the city of Berlin (Program officiel des Rencontres d'Arles and Deutscher Fotobuchpreis 2021) was originally photographed with a smartphone for her Instagram presence (@barbara_wolff_berlin) and then printed by herself as classic analogue barite prints . The "Amazonia" series, which is being shown for the first time ever, was created to accompany an exhibition in Belém / Brazil in 2019.

Barbara Wolff creates photographic moments that are universally valid, touching in their truth about people and thus charged with significance. Due to its universal validity, it creates a common level and possibility of communication between the world of experience of the viewer and the photographer. These works go beyond the documentation of real, objective reality. At the literally decisive moment, Barbara Wolff succeeds in capturing her subjects sensitively in high photographic quality and in very balanced compositions and charging them with additional levels of meaning. A super-real, magical world emerges. At the same time, the artistic language of Barbara Wolff, which for me can be located in Magical Realism, has a strong humanistic component. Many pictures show us people in their immediate and uncompromising dignity, in the field of tension between fragility and strength.

Her diverse work has been presented by the Collection Regard since 2017 and has since received international recognition. The publications "In Eigener Sache", "METROPOLIS, Berlin" and "Amazonia" accompany the exhibition.

The Goethe-Institut is the cultural institute of the Federal Republic of Germany that operates worldwide. The Goethe Institute in Bordeaux has existed since 1972 and is celebrating its 50th anniversary this year. The spacious rooms in a city villa in the center right next to the Jardin public allow for regular photo exhibitions in-house. The content of the program focuses on the areas of photography, design and architecture.

The Collection Regard is a photographic collection that focuses on German photography, especially photography from Berlin. With its work as a collection, archive (Hein Gorny Estate) and gallery, Collection Regard consciously occupies a position between museum and gallery. The Collection Regard is particularly keen to show the interested public valuable photographic works that are still largely unknown and that deserve attention. 
This exhibition is part of the PARCOURS FOTOHAUS BORDEAUX 2022 from 7.4-1.5.22
Hôtel de Ragueneau
71, Rue du Loup
Bordeaux