FOTOHAUS I PARISBERLIN I ARLES2015
Salon Photographique Collection Regard
06.07.2015 till 12.07.2015
The Collection Regard presents from 6th to 12th July 2015 a SALON PHOTOGRAPHIQUE, an exhibition on the theme of BERLIN at FOTOHAUS (7 rue de la Roquette in Arles, France) part of VOIES OFF Festival during the Rencontres d'Arles.
SALON PHOTOGRAPHIQUE is a photographic exhibition on the theme of BERLIN in the shape of a curiosity cabinet curated by Antonio Panetta. The set up is the one of a living room, according to the style of the Collection Regard located in the district of Berlin-Mitte. Some photographers presented at the Collection Regard since 2011 will be presented : Hein Gorny, Manfred Paul and Roselyne Titaud. The work of other photographers will be viewable in form of portfolios and publications, including Hans Martin Sewcz, Ulrich Wüst, Peter Thomann, Siebrand Rehberg and Rainer König.
The

services

of the

company

RECOM ART

,

Berlin

were

also

presented

.




REANALOG

WORKFLOW




High End Scans




Digital data

on

BW

-

negative


Silver gelatin print

max

.

Size

of 142

x

350 cm



FOTOHAUS PARISBERLIN included 3 exhibitions:
SALON PHOTOGRAPHIQUE on the theme of BERLIN by Collection Regard,
POSITIONEN by the Ostkreuz School,
GARTEN by ParisBerlin>fotogroup, in coproduction with the Goethe-Institut Paris.
3,000 visitors came to visit us.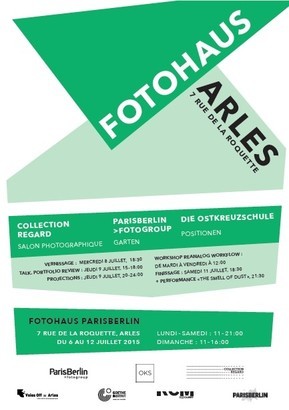 Press Relase Salon Photographique Collection Regard
Press Release Collection Regard Berlin i
Adobe Acrobat Document
2.1 MB