Exhibitions opening "Berlinische Fragmente - Fotografien von Rainer König" and "Berlin Prenzlauer Berg. Fotografien 1969-1980 von Bernd Heyden" on September 22, 2016 at Willy-Brandt-Haus, Berlin.
© Holger Biermann
BERLIN FRAGMENTS

Photographs by Rainer König
Willy-Brandt-Haus, Berlin
23.09.2016 till 15.01.2017
Curated by Gisela Kayser and Antonio Panetta
On the occasion of the photographer's 90th anniversary, Freundeskreis Willy-Brandt-Haus and Collection Regard present the exhibition "Berlin Fragments" by Rainer König in the official program of the European Month of Photography (EMOP) 2016.
Rainer König (born 1926) lives and works in Berlin.
He studied architecture at the School of the Fine Arts (today the University of Fine Arts), Berlin and began working as an architect in 1951. He made his first photographs in 1953 and began teaching exhibition design at the Meisterschule für das Kunsthandwerk Berlin five years later. In 1966 he stops working as an architect, begins teaching photography and working in the fields of architectural photography, photographing architectural models, buildings, and making photographic documentation. He was Professor for Exhibition Design and Photography at the School of Fine Arts, Berlin from 1970-1991.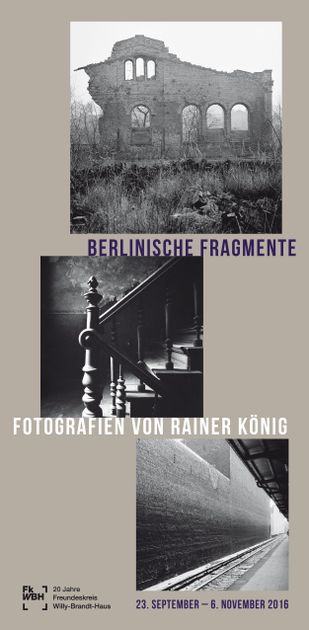 The catalog "Berlinische Fragmente" has been published by Collection Regard
Text by Janos Frecot
Softcover, 45 b/w images, 48 pages
German/ English